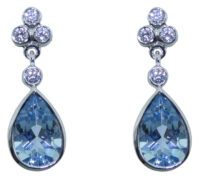 click on the image for a larger view
Aquamarine and Diamond Pear Shaped Drop Earrings, 18ct White Gold
A Pear Shaped Aquamarine set in to an 18ct white gold smooth rub over setting is suspended from a single modern brilliant cut diamond which in turn is all beautifully set below a trefoil of 3 modern brilliant cut diamonds.
This beautiful pair of earrings make an ideal present for any special occasion and are very suitable for daytime or evening wear. The smoothness of the settings allows for a very comfortable fit and with flex-ability in the earring as a whole it completes the piece.
Strong Butterfly fittings on a tradition post
2 Aquamarines = 2.02 carats
8 Diamonds = 0.21 carat
Measures 2.1cm long
Shop Reference: J565
Out of stock
Our aim is to provide the same high level of service and attention to each customer
through the internet, that we have striven to achieve in our shop since 1883 for four
generations.