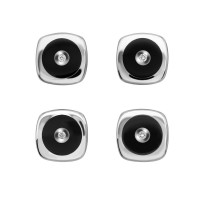 click on the image for a larger view
Silver and Black Onyx Deakin and Francis Diamond Dress Studs
Sterling Silver and Black Onyx Cushion shaped Dress studs by Deakin and Francis, with a cushion shaped silver cufflink set with a circular black onyx disk with diamond set centres, on easy to much through fittings which are domed to make them smooth and comfortable in wear. They have an upright centre bar which will prevent them from turning in the shirt.
Matching Cufflinks also available
Each piece comes in the Luxury Deakin and Francis presentation case.
Size: 10.5mm x 10.5mm
Shop Reference: C1777N0004
Our aim is to provide the same high level of service and attention to each customer
through the internet, that we have striven to achieve in our shop since 1883 for four
generations.