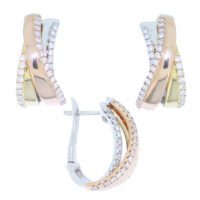 click on the image for a larger view
18ct three colour gold and diamond hoop earrings
These impressive pair of earrings have a brilliant look to them, with the rose gold sweeping across the front over the yellow gold row and the white gold row, all set with brilliant cut diamonds to the edge. They are made as a left and right so that they sit perfectly on the ear, with a very easy hinged hoop fastener to the back for both security and also to keep the earrings balanced in the lobe. All of the gold used is 18ct.
Diamonds = 0.70 carat
Measurements: 11mm wide x 19mm drop
Shop Reference: L402/2
Our aim is to provide the same high level of service and attention to each customer
through the internet, that we have striven to achieve in our shop since 1883 for four
generations.