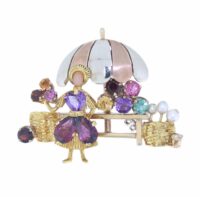 click on the image for a larger view
9ct Yellow Gold Novelty Flower Seller Brooch set with Gemstones
An unusual brooch in the shop of a Flower Seller, the flower seller is made of a heart cut amethyst body and a pair of almandine garnets for her skirt, the face is coral for skin colour and she is holding a bouquet of flowers of mixed gems. The Flower stall is mage in 9ct yellow gold with baskets on either side and set with more gemstons and also Akoya cultured pearls for the flowers all set under a canopy of a 9ct white and rose gold umbrella.
This is a ,most exquisite brooch that will certainly be a talking point.
Gemstones are: Garnet, Almandine Garnet, Citrine, Amethyst, Blue Zircon
Measures 3.6cms wide x 3.0cms High
Handmade in Birmingham by Alabaster & Wilson Established 1887
Circa 1965
Second Hand
Shop Reference: K561
Our aim is to provide the same high level of service and attention to each customer
through the internet, that we have striven to achieve in our shop since 1883 for four
generations.