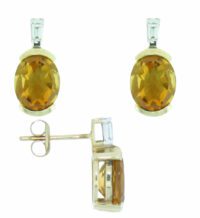 click on the image for a larger view
Citrine and Diamond drop earrings, 9ct yellow gold mounts
A large oval cut Citrine is held in place with 9ct yellow gold running around the top and bottom in a smooth setting, allowing view of the citrine from the side and letting in plenty of light. This is suspended from a tapered baguette cut diamond in mounted 9ct white gold.
A lovely pair of earrings with fire in each of the citrines, these would compliment many outfits both for a larger daytime pair of earrings and also a dressy pair for going out in.
Secured with traditional high quality Butterfly fittings
Measures 15mm x 7mm
Shop Reference: C563
Out of stock
Our aim is to provide the same high level of service and attention to each customer
through the internet, that we have striven to achieve in our shop since 1883 for four
generations.