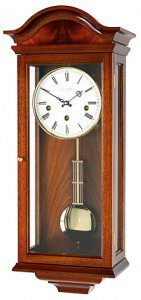 click on the image for a larger view
Mahogany 8 day Comitti Westminster chime Wall regulator clock C3060CH
Solid mahogany 8 day Comitti Westminster chime wall regulator clock. With brass grid iron pendulum and fittings. Key drawer to hide key and top embellishment finished flush to the back.
The case is all English Made from solid Mahogany and beautifully hand polished. The high quality Westminster chime movement plays the Westminster chime very quarter (building up the amount it plays each quarter) and then strikes the corresponding number on the hour. It uses a combination of 5 rods being struck by hammers to make the sound.
This updated clock now has the Night Shut Off option, which can be activated to automatically stop the clock from chiming after 9.45pm and restarting at 7.00am
Size 66cm(H) x 22(W) x 15(D)
RRP £1,290.00
Shop Reference: C3060CH
Only 1 left in stock
Our aim is to provide the same high level of service and attention to each customer
through the internet, that we have striven to achieve in our shop since 1883 for four
generations.