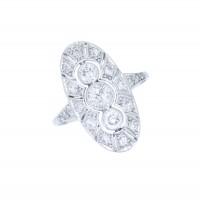 click on the image for a larger view
Diamond 1920's plaque ring with 3 central diamonds, platinum millegrain mount
A fine example of 1920's jewellery, this particular piece is an elongated oval shaped plaque ring, with 8 cut diamonds in their own individual settings with millegrain borders, and hand pierced between each of the 12 settings to create the gaps that you see. In the centre are 3 Victorian cut diamonds, with the centre slightly larger than the ones either side, these have a matching millegrain setting, and the hand piercing of the centre follows around the shape of the centre 3 diamonds. The shank leading up to the ring is set with 2 rose cut diamonds and 1 8 cut diamond on each side, and narrows to a fine platinum shank.
Size: 19.8mm x 10.3mm
This ring can be sized, however we would prefer to be in contact with the purchaser before sizing, due to the nature of the ring, its current finger size is L
Circa 1920's
SECOND HAND
Shop Reference: C56/4
Out of stock
Our aim is to provide the same high level of service and attention to each customer
through the internet, that we have striven to achieve in our shop since 1883 for four
generations.