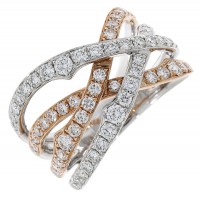 click on the image for a larger view
Diamond 4 row fancy cross-over dress ring, 18ct white and rose gold mount
A fancy and eye catching diamond dress ring, with 4 curving rows crossing over each other. Each row is set with modern brilliant cut diamonds, with a slightly larger diamond set on each row. 2 of the rows are all 18ct rose gold and 2 rows are 18ct white gold, with the rear of the ring set in white gold round the back of the ring.
69 Diamonds = 1.17 carats
A very comfortably fitting ring. The finger size is Size L, it may be possible to size this ring, but it is the type of ring that a new one may be best being made for you.
12.8mm at its widest point
Shop Reference: H57/4
Out of stock
Our aim is to provide the same high level of service and attention to each customer
through the internet, that we have striven to achieve in our shop since 1883 for four
generations.