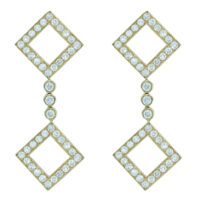 click on the image for a larger view
Diamond and 18K yellow gold square drop earrings
A pair of stunning diamond drop earrings, with 20 modern brilliant diamonds in an open square suspended from the corner. Below this are three slightly larger diamonds from which is another square of equal size to the top with a further 20 brilliant cut diamonds, all mounted in 18K yellow gold.
This fantastic pair of earrings are incredibly striking and stylish.
86 Diamonds = 1.35 carats approx.
Measures 3.5cms long x 1.3cms wide
Second Hand
Shop Reference: N403/2
Our aim is to provide the same high level of service and attention to each customer
through the internet, that we have striven to achieve in our shop since 1883 for four
generations.