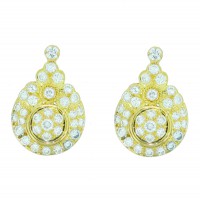 click on the image for a larger view
Diamond fancy cluster drop earrings, 18K yellow gold mount
A very eye catching pair of diamond cluster earrings. All made with modern brilliant cut diamonds.
The earrings comprise of a neat cluster of 7 diamonds, surrounding the bottom of this is a graduating row of diamonds that then transfers to a row of 2 diamonds. Above this cluster is a singe diamond that has three trefoils of diamonds, to the left and right and one to the above. This cluster is all suspended in a fixed manner from a single diamond.
They are all very bright lively diamonds and contrast very well with the richness of the yellow. It is a traditional post and butterfly fitting that is used o the earrings to secure them.
Diamond weight 0.85 carat approx.
Measures 17mm long x 12mm wide
Second Hand
Shop Reference: B406/2
Out of stock
Our aim is to provide the same high level of service and attention to each customer
through the internet, that we have striven to achieve in our shop since 1883 for four
generations.