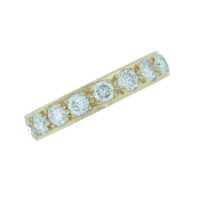 click on the image for a larger view
Diamond full Eternity Ring, mounted in 18ct yellow gold
A very classical Diamond full eternity ring, made up of 17 large modern brilliant cut diamonds, each held in neat claw settings. The mount is made from 18ct yellow gold which contrasts very well with the whiteness of the diamonds.
17 Dimonds = 2.15 carats approx
Finger Size O
Finger size on a full eternity is very important. This ring is second hand and therefore cannot be altered, however it is important to bear in mind that an Eternity ring has no start or stop and so can be free to turn a little.
Shop Reference: U75/4
Our aim is to provide the same high level of service and attention to each customer
through the internet, that we have striven to achieve in our shop since 1883 for four
generations.