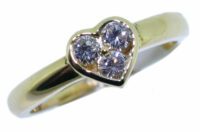 click on the image for a larger view
Diamond heart ring
Diamond heart cluster ring, mounted in a rub over 18ct yellow gold setting and shank.
All three diamonds used are modern brilliant cuts, positioned to create a heart shape this is then completed with a heart shaped rub over setting. This allows for a very smooth finish. The band/shank used is slightly heavier than our normal ones but compliments well to this particular ring.
3 Diamonds = 0.32 carat
Measures 7.5mm x 6.9mm
Matching earrings are also available
Shop Reference: E36/3
Our aim is to provide the same high level of service and attention to each customer
through the internet, that we have striven to achieve in our shop since 1883 for four
generations.