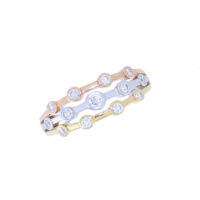 click on the image for a larger view
Diamond three row dress ring, 18ct white, yellow and rose gold mount
This is a modern and comfortable dress ring. The centre row is made up of 5 graduating modern brilliant cut diamonds in 18ct white gold rub over settings. Set either side of this central band is a row with 4 diamonds on each side, all of equal size, one side set in 18ct yellow and the other side set 18ct rose gold.
The rub over settings allow for a very smooth surface and no catching.
13 Diamonds = 0.13 carat
Size: 7.3mm x 18.3mm across from diamond to diamond
The sizing is limited on this style of ring, whoever a new ring can be made in your finger size if it is not on the list below.
Shop Reference: Q56/4
Our aim is to provide the same high level of service and attention to each customer
through the internet, that we have striven to achieve in our shop since 1883 for four
generations.