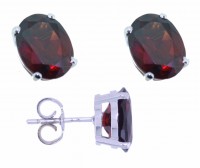 click on the image for a larger view
Garnet single stone earrings, 18ct white gold mounts
A large oval cut Mozambique Garnet is held in place with a 18ct white gold four claw setting. The open sides allow view of the Garnets whilst letting plenty of light in.
Secured with traditional high quality Butterfly fittings
Measures 9.2mm x 7.1mm
ENGLISH MADE
Shop Reference: W588
Only 1 left in stock
Our aim is to provide the same high level of service and attention to each customer
through the internet, that we have striven to achieve in our shop since 1883 for four
generations.