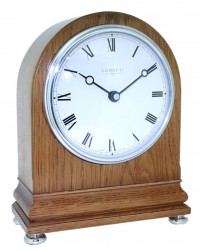 click on the image for a larger view
Light Oak Radio Controlled quartz Comitti Arch top mantel clock C4802RC
Solid Light Oak quartz Comitti mantel clock. Arch top case with chrome door fittings and feet. Classical black roman numerals and hands contrast against the white dial.
The solid oak case is all English Made and beautifully hand polished. The movement is now fitted with a Radio controlled quartz movement, therefore requires no attention at hour changes.
Size 20cm(H) x 15(W) x 7.5(D)
RRP. £295.00
Shop Reference: C4802RC
Only 1 left in stock
Our aim is to provide the same high level of service and attention to each customer
through the internet, that we have striven to achieve in our shop since 1883 for four
generations.