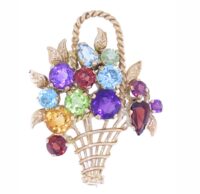 click on the image for a larger view
Multi Gemstone brooch in 9ct Yellow Gold Basket
This is a beautiful multi gemstone spray basket brooch. The variation of Gemstones adds colour and vibrancy to this exquisite piece of jewellery. The different cuts of stones gives variety and style. All of this is set upon a handmade basket made out of 9ct yellow gold with a curving handle with gold leaves around the piece.
Gemstones are: Garnet, Citrine, Peridot, Aquamarine, Amethyst, Blue Zircon and Pink Tourmaline.
Measures 3.4cms wide x 4.4cms High
Handmade in London by Cropp & Farr Established 1917
London 1971
Second Hand
Shop Reference: E560
Our aim is to provide the same high level of service and attention to each customer
through the internet, that we have striven to achieve in our shop since 1883 for four
generations.