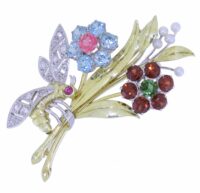 click on the image for a larger view
Multi Gemstone Floral Spray Brooch with Bee, Platinum and 14ct Yellow Gold
This striking brooch has 2 clusters one set with blue zircons and a pink tourmaline and the other with garnets and a green tourmaline, these are set either side of 14ct yellow gold leaves with Akoya cultured pearls ends. Sat upon this is a gold bee with diamond set pierced platinum wings with a ruby eye. This is a unique brooch made to an exceptional standard.
Gemstones are: Blue Zircon, Garnet, Pink and Green Tourmaline,
Measures 4.9cms wide x 3.5cms High
Handmade in London by Cropp & Farr Established 1917
Second Hand
Shop Reference: K570
Our aim is to provide the same high level of service and attention to each customer
through the internet, that we have striven to achieve in our shop since 1883 for four
generations.