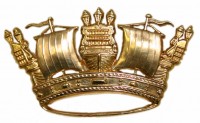 click on the image for a larger view
Naval Crown 9ct yellow gold brooch
9ct gold Naval Crown brooch.
The sails of the brooch are done with a brushed finish and the prows with a polished finish.
Size: 3.2cms wide x 1.9cms high
Made by Alabaster and Wilson
Shop Reference: M448
Our aim is to provide the same high level of service and attention to each customer
through the internet, that we have striven to achieve in our shop since 1883 for four
generations.