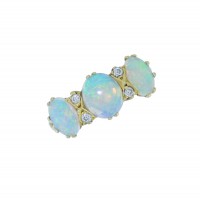 click on the image for a larger view
Opal and diamond 7 stone ring, 18ct gold carved claw mount
A reproduction ring in the style of the carved claw rings at the turn of the 20th century.This ring is an extremely fine example of a repro ring. The opals are all oval cut and with the typical smooth polished cabochon cuts. These are interspaced with a pair of diamonds between each opal, with a crossover effect of the settings for the diamonds.
Size: 8.1mm x 19mm
English Made
London 1994
SECOND HAND
Shop Reference: Z152/4
Our aim is to provide the same high level of service and attention to each customer
through the internet, that we have striven to achieve in our shop since 1883 for four
generations.