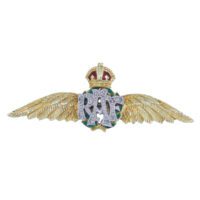 click on the image for a larger view
RAF diamond set enamel Regimental brooch, platinum and 15ct gold mount.
Platinum and Rose diamond set RAF initials, positioned above a green enamel wreath background, adorned with a red enamel Kings crown. Finished off with the traditional pair of textured yellow gold wings. The letters of the RAF are made from platinum and the remainder of the brooch is from the finest 15ct yellow gold.
Maesures 40mm wide x 14mm tall
Second hand
Shop Reference: F562
Only 1 left in stock
Our aim is to provide the same high level of service and attention to each customer
through the internet, that we have striven to achieve in our shop since 1883 for four
generations.