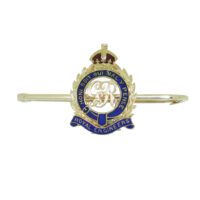 click on the image for a larger view
Royal Engineers Regimental Bar Brooch, 15ct gold and enamel
Royal Engineers bar brooch, with blue enamel motto surrounding the George 5th. A circular gold wreath surrounds the whole piece and it finished with the Kings crown with red enamel. This is a set on a gold bar brooch. The gold used is stamped 15ct on the bar and the emblem itself is engraved by hand with 15ct.
Measures 45mm wide x 23mm tall
Second hand
Shop Reference: E562
Only 1 left in stock
Our aim is to provide the same high level of service and attention to each customer
through the internet, that we have striven to achieve in our shop since 1883 for four
generations.