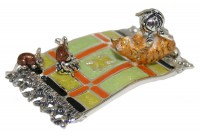 click on the image for a larger view
Saturno Silver and Enamel Cat, mice and Carpet Ornament
Saturno Sterling silver and enamel cat playing with ball of wool, whilst 2 mice with a block of cheese all sit on an oriental carpet, with fully enamelled pale green and orange rug, with an orange marmalade cat and brown mice. A very quirky piece indeed.
Highly detailed piece. Made in Italy to the highest standard, finished with a protective lacquer to prevent tarnishing with no need to clean. They make ideal gifts and are highly collectable.
This we do have in stock, in case the customer who has enquired about it has not been able to receive our emails.
Sizes:
5.8cms long x 3.5cms wide x 2.6cms high
Shop Reference: 13220
Only 1 left in stock
Our aim is to provide the same high level of service and attention to each customer
through the internet, that we have striven to achieve in our shop since 1883 for four
generations.