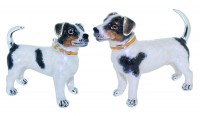 click on the image for a larger view
Saturno Sterling Silver and Enamel Dogs- Jack Russell Ornaments
Saturno Sterling silver and enamel pair of Jack russell ornaments, with fully enamelled bodies and yellow collars. The mostly cream bodies with black patches with brown highlights and very detailed faces.
Highly detailed piece. Made in Italy to the highest standard, finished with a protective lacquer to prevent tarnishing with no need to clean. They make ideal gifts and are highly collectable.
Size:
Small 4.9cms high x 5.5cms long
Large 5.7cms high x 6.9cms long
Prices
Small £425.00
Large £600.00
Shop Reference: 13323
Our aim is to provide the same high level of service and attention to each customer
through the internet, that we have striven to achieve in our shop since 1883 for four
generations.