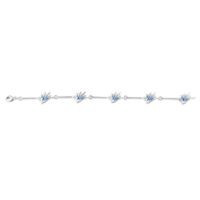 click on the image for a larger view
Sheila Fleet Sterling Silver and Enamel Cascade Bracelet
Sterling Silver and enamel Cascade bracelet. Consisting of 5 sections with 5 silver bars in between. Matching pendant and bracelet available.
Sheila's Notes – We often stay at Forss in Caithness where there is a magnificent waterfall – I can watch the gushing water for hours, casting shapes and shadows. My husband, Rick's pictures really capture the excitement and beauty of the abstract shapes the water creates.
Enamel Colour: Cascade Blue
Size: 190mm x 15mm
10% saving off all Sheila Fleet products
Shop Reference: EBL0150
Only 1 left in stock
Our aim is to provide the same high level of service and attention to each customer
through the internet, that we have striven to achieve in our shop since 1883 for four
generations.