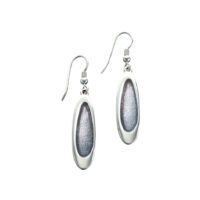 click on the image for a larger view
Sheila Fleet Sterling Silver and Enamel Shoreline Pebble Drop Earrings
Sterling Silver and enamel Pebble drop earrings. The enamel of this always picks up the colours surrounding it and therefore goes with many outfits. Matching pendant and bracelet also available.
Sheila's Notes – I grew up and walked on many shorelines when I was younger and always have had a fascination with pebbles and their subtle shapes and textures. When the tide comes in and washes over the pebbles they glisten in the light and have a beautiful lustre. The graduation of enamels in a sweeping shape reminds me of the sea washed pebbles in different colours.
Enamel Colour: Pearl Grey
Size: 47mm x 9mm
10% saving off all Sheila Fleet products
Shop Reference: EEX167
Only 1 left in stock
Our aim is to provide the same high level of service and attention to each customer
through the internet, that we have striven to achieve in our shop since 1883 for four
generations.