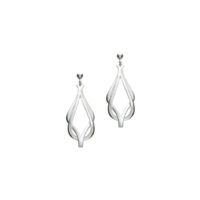 click on the image for a larger view
Silver Sheila Fleet Reef Knot Drop Earrings
Sterling Silver Sheila Fleet Reef Knot drop earrings.
All made on the Orkney Islands in Sheila's own workshop to a very high standard.
Each piece comes in the Sheila Fleet presentation case, with description of her design influence.
Size: 32mm x 12mm
Matching pendant also available
10% saving off all Sheila Fleet products
Shop Reference: EX28
In stock
Our aim is to provide the same high level of service and attention to each customer
through the internet, that we have striven to achieve in our shop since 1883 for four
generations.