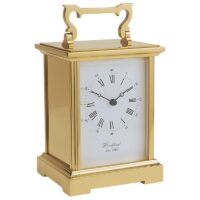 click on the image for a larger view
Solid Brass quartz Woodford Anglaise carriage clock
Solid brass Woodford Anglaise carriage clock with quartz movement. Bevelled glass and white dial with black Roman numerals and Breguet style hands.
A polished case and handle with brushed sides and back
Ideal for Presentations, a quality heavy brass case.
Size 15.7cm(H) x 9.0(W) x 6.5(D)
Shop Reference: 1406
Our aim is to provide the same high level of service and attention to each customer
through the internet, that we have striven to achieve in our shop since 1883 for four
generations.